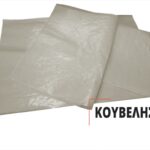 Waterproof paper
Dimentions:
Origin:
Material:
Color:
Pieces:
total_sales:
slide_template:
product_image_on_hover:
custom_tab_priority1:
custom_tab_priority2:
header_view:
layout:
Waterproof paper does not dissolve in the brine, it has tremendous strength and is ideal for cheese-buttered-anthotype-salted containers etc. You can order that your dimension fits. (35 x 50 cm, 50 x 70 cm, 100 x 70 cm).